How to set up your IK720 Relay GPS Tracker?
Accessing Tracker – First remove the top cover. Do this by holding the connections at the bottom and pulling the top case off.
2G SIM Card – Insert a nano 2G SIM card into the IK720 GPS tracker. The status lights on the tracker will flash. You will easily be able to see both lights. Only use a nano 2G SIM card.
Green Light – GPRS/GSM
Green Light On Constant:  No GPRS/GSM signal.
Green Light Flash:  GPRS/GSM successfully connected.
Green Light Off:  No power or sleep mode.
Blue Light – GPS
Blue Light On Constant:  No GPS signal.
Blue Light Flash:  GPS successfully connected.
Blue Light Off:  No power or sleep mode.
Password – The default password for this vehicle GPS tracker is 123456. You will need this when sending SMS text commands to set up your tracker. This is the SMS password, which is not the same as your log in password on icar tracking platform or app.
Set APN – You need to set your APN for the SIM card you have. Sending command – apn123456 apn content. How to set apn for a gps tracker?
You can now log into your icar gps tracking platform or app with your ID number now. Make sure you use the Tracking Device ID that came with the tracker and you choose to log in with ID number but not log in with an account.
IK720 GPS Relay Tracker Commands
IK720 GPS trackers are some of our most popular selling vehicle trackers. They are reliable, affordable, hidden very well, and have many functions. Even though they are largely popular, they do not come with a very good command manual.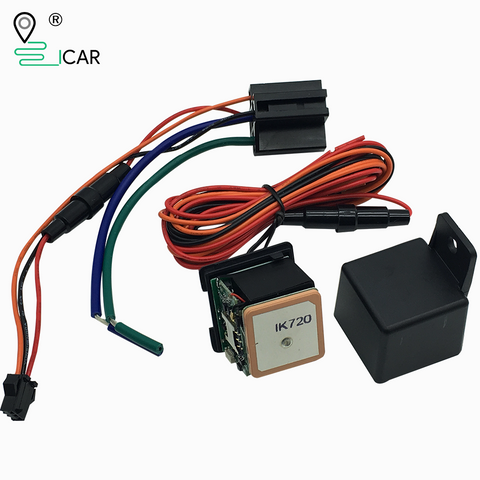 This is simply a list of commands that you might find useful when setting up your IK720 tracker. Most other IK720 GPS trackers use the same, or at least similar commands. Some copies from foreign countries may use slightly different commands, but they should be about the same.
GPS Tracker Commands For IK720
How To Set Password For IK720:
Command Structure:  password+old password+space+new password
Example Command: password123456 686868
Tracker Reply: password ok
(This will change your SMS password but no the log in password so make sure to note it. All other sms command content will be changed if you reset this password )
How To Set Admin Number For IK720:
Command Structure:  admin+password+space+adminnumber
Example Command:  admin123456 16025567888
Tracker Reply: admin ok
(All text SMS will come to admin phone number once it is set)
How To Turn Off Admin Number For IK720:
Command Structure:  noadmin+password
Example Command:  noadmin123456
Tracker Reply: noadmin ok
How To Set Overspeed Alarm For IK720:
Command Structure:  speed+password+space+000
Example Command:  speed123456 080
Tracker Reply:  speed ok
(In the example, if the vehicle reaches 80 k/h, SMS will send to admin phone)
How To Turn Off Overspeed Alarm For IK720:
Command Structure:  nospeed+password
Example Command:  nospeed123456
Tracker Reply:  nospeed ok
How To Turn On Shock Alarm For IK720:
Command Structure:  shock+password
Example Command:  shock123456
Tracker Reply:  shock ok
(If tracker is stationary for a few minutes, then next time it senses movement, it will send SMS alert to admin phone)
How To Turn Off Shock Alarm For IK720:
Command Structure:  noshock+password
Example Command:  noshock123456
Tracker Reply:  noshock ok
How To Set Sleep Time Setting For IK720:
Command Structure:  sleep+password+space+time
Example Command:  sleep123456 time
Tracker Reply:  sleep time ok
(Sleep time means that, once tracker is woken up by movement it will go back to sleep after 5 minutes)(can change minutes by replacing "time" with number)
How To Set Sleep Shock Mode For IK720:
Command Structure:  sleep+password+space+shock
Example Command:  sleep123456 shock
Tracker Reply:  sleep shock ok
(Sleep shock means that, if the tracker does not sense movement for 5 minutes, it will go to sleep)(or sleep minutes set in previous step)
How To Set APN For IK720:
Command Structure:  apn+password+space+apnname
Example Command:  apn123456 internet.beeline.ru
Tracker Reply:  apn ok
Command Structure:  apnuser+password+space+apnusername
Example Command:  apnuser123456 yourapnusersame
Tracker Reply:  apnuser ok
Command Structure:  apnpassword+password+space+apnpassword
Example Command:  apn123456 yourapnpassword
Tracker Reply:  apnpassword ok
How To Set IP For Mapping Service For IK720:
Command Structure:  adminip+space+ipaddress+port
Example Command:  adminip 10.11.12.14 6013
Tracker Reply:  adminip ok
How To Check Tracker Status For IK720:
Command Structure:  param1
Example Command:  param1
Tracker Reply:  Replies with current settings by SMS
How To Set Move Alarm For IK720:
Command Structure:  move+password+space+distancemeters000threedigits
Example Command:  move123456 200
Tracker Reply:  move ok
(When tracker has been stationary for 10 minutes, send move+password to it, it will then send admin phone an alert if the tracker moves more than 200m from that location for this example)
How To Turn on Message reply For IK720:
Command Structure:  dxhf,1
Example Command: 
dxhf,1
Tracker Reply:  no message reply for this command
(You could send this command if there is no any reply when you sending other SMS commands. Resend the command you want to send after sending this command, it will work properly)