How to set APN for a GPS tracker?
APN is the abbreviation of Access Point Name.An Access Point Name (APN) is the name of a gateway between a GSM, GPRS, 3G or 4G mobile network and another computer network, frequently the public Internet.
A GPS tracker making a data connection must be configured with an APN to present to the carrier. The carrier will then examine this identifier to determine what type of network connection should be created, for example: which IP addresses should be assigned to the wireless device, which security methods should be used, and how or if, it should be connected to some private customer network.
Usually the APN include three parts: APN content,APN user name,APN password.But how could we know the APN details of the sim card on our hand?
We have at least 3 ways to check that:
check the sim card package,it may printed somewhere
Search online via this link: https://apnsettings.gishan.net/
Insert the sim card to your mobile,check follow below picture: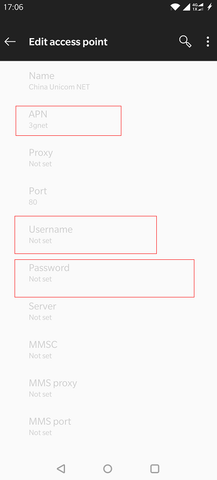 After you got the sim card APN details,then we would start to set APN by SMS,below is an example for beeline sim card(APN:internet.beeline.ru APN user:beeline APN password:beeline) used in icar gps ik122 hunt dog gps tracker:
apn123456 internet.beeline.ru
apnuser123456 beeline
apnpasswrd123456 beeline
The ik122 would reply apn set ok,then you could check the location via mobile application or website.